CRYPTONAIRE WEEKLY MAGAZINE 185TH EDITION IS OUT NOW

The #1 CRYPTO TRADING MAGAZINE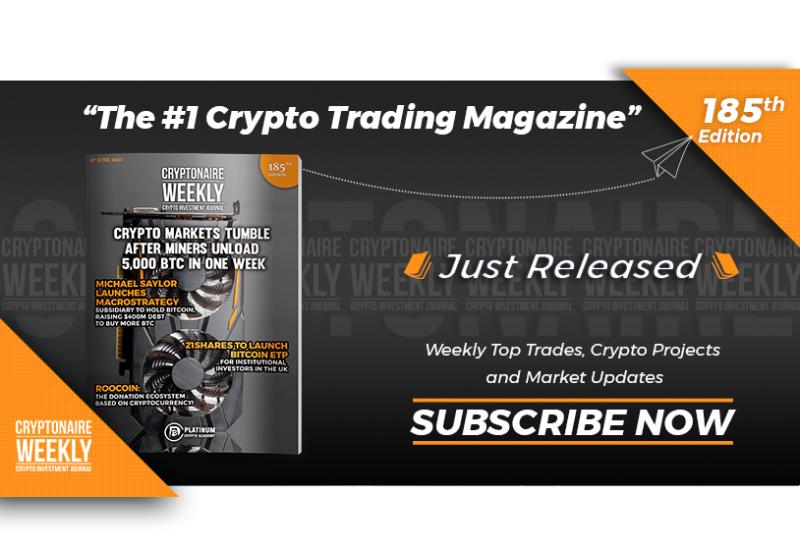 WEEKLY TOP TRADES, TOP PROJECTS AND MARKET UPDATES
Short-term price actions are based largely on sentiment and less on long-term value. Therefore, in a bear market, every negative news acts as a catalyst for more selling. Bitcoin and several altcoins fell on the news that Weibo has blocked accounts of "Key Opinion Leaders" which many believe is a sign of increased crackdown on cryptocurrencies by China.
United States Treasury Secretary Janet Yellen said in an interview with Bloomberg that inflation and interest rates have been too low for a decade. Hence, if they moved up after the recent $4 trillion package announced by President Joe Biden, then "that's not a bad thing — that's a good thing."
OUR BLOG ARTICLES FOR THIS SPECIAL ISSUE ARE ROOCOIN – THE DONATION ECOSYSTEM BASED ON CRYPTOCURRENCY!, STARTER – DECENTRALIZED FUNDRAISING, MULTICHAIN ECOSYSTEM, & GAUGECASH – THE WORLD'S FIRST DECENTRALIZED MONETARY SYSTEM
Bitcoin turned down from the 20-day exponential moving average (EMA) on June 4, suggesting the bears are aggressively defending this resistance. The downsloping moving averages and the relative strength index (RSI) near the oversold territory indicate the bears are in control.
The BTC/GBP pair has broken below the critical support at £23,620 today. This opens the door for a drop to the £21,000 to £20,000 support zone. The bulls are likely to defend this zone aggressively. The buyers will have to push and sustain the price above the 20-day EMA to indicate a possible change in trend. Until then, everyrally is likely to be met with strong selling pressure from the bears.
Aggressive traders may buy 40% of the desired allocation if the price bounces off £21,000. This trade should not be attempted on the way down but only on a rebound. This is a risky counter-trend trade, hence, traders may keep a close stop-loss to protect their positions because if the £20,000 level cracks, the decline could extend to £15,000.
Lastly please check out the advancement's happening in the cryptocurrency world.
Featuring in this weeks Edition:

- Asia Broadband

- Gaugecash

- RooCoin

- Starter

- Somee

- iZOBi

- Ledger
Read More
CRYPTO TRADE OPPORTUNITIES
Ethereum and XRP Looking More Attractive as Investors Rush to Exit Bitcoin Funds
Crypto markets tumble after miners unload 5,000 BTC in one week
Michael Saylor Launches MacroStrategy Subsidiary to Hold Bitcoin, Raising $400M Debt to Buy More BTC
Apple Reveals New Encryption and Privacy Features for iPhone, Mac
ASIA BROADBAND (AABBG): THE 100% GOLD-BACKED TOKEN FROM A US MINING COMPANY
IZOBI – A MARKETPLACE CONNECTING SERVICE PROVIDERS WITH HOMEOWNERS
ROOCOIN – THE DONATION ECOSYSTEM BASED ON CRYPTOCURRENCY!
STARTER – DECENTRALIZED, MULTICHAIN ECOSYSTEM
GAUGECASH – THE WORLD'S FIRST DECENTRALIZED MONETARY SYSTEM
#CryptonaireWeekly #platinumcryptoacademy #Binance #Bitcoin #Ethereum #Ripple #Litecoin #AsiaBroadband #IZOBI #Gaugecash #Ecosystem #DeFiSwap #Roocoin #Ledger #PointPay #Starter #Somee #DayTrading #BTC #digitalcurrency #AuBit #aubitnetwork #fwt #Freewaytoken #QoinIQ #QoinSuit #digitalcurrencymarket #ATANI #DayTrading #Cryptocurrencyexchanges #digitalexchange


CW - Website Work
https://www.platinumcryptoacademy.com/cryptonaireweekly/edition185/8th-june-2021/