CRYPTONAIRE WEEKLY MAGAZINE 191ST EDITION IS OUT NOW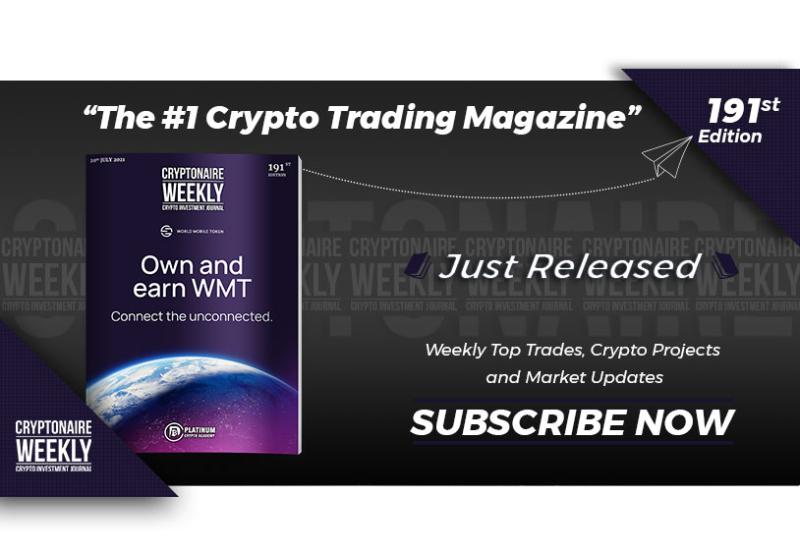 The #1 CRYPTO TRADING MAGAZINE

WEEKLY TOP TRADES, TOP PROJECTS AND MARKET UPDATES
The crypto markets extended their decline on Monday due to the broad-based risk-off sentiment across assets, which saw the Dow Jones Industrial Average plummet 725.81 points, its worst fall since last October. The increase in Covid-19 cases in many parts of the world due to the delta variant was touted as one of the several reasons for the flight to safety.
Jeffrey Gundlach, CEO of investment management firm DoubleLine Capital, said in a CNBC interview recently that Bitcoin has formed a head and shoulders pattern that "looks pretty convincing." Gundlach expects Bitcoin to correct to $23,000.
OUR BLOG ARTICLES FOR THIS SPECIAL ISSUE ARE ALOHA DEFI: A COMPREHENSIVE REVIEW OF THE NEXT-GEN ONE-STOP DEFI ECOSYSTEM, MORE STABLE THAN ALL STABLECOINS, WHY GAUGECASH CAN BE THE GO-TO TOKEN OF THE DEFI WORLD, & ZUMO-THE COMPANY HELPING PEOPLE GET COMFORTABLE WITH CRYPTO
We had mentioned in our previous analysis that the possibility of a fall is greater and that is what happened. Bitcoin broke below the £23,620 support on July 15, indicating that bears have overpowered the bulls.
The bulls tried to push the price back above £23,620 on July 18 but failed. This may have attracted further selling and the bears will now try to capitalize on the weak sentiment by pulling the price below £21,000.
If they succeed, the BTC/GBP pair will complete a bearish descending triangle pattern. This negative setup could start the next leg of the downtrend, which may reach £15,000.
The downsloping moving averages and the relative strength index (RSI) in the negative territory indicate the path of least resistance is to the downside.
However, the bulls may not surrender the £21,000 to £20,000 support zone easily and will try to defend it. A strong rebound will indicate accumulation at lower levels. The bulls will have to push the price above the downtrend line to signal a trend change.
As the trend is negative, traders may remain on the sidelines until a bottom is confirmed. Pre-empting a bottom could quickly result in a loss.
Lastly please check out the advancement's happening in the cryptocurrency world.
Featuring in this weeks Edition:

- World Mobile Token

- Subme Cash

- ClearMoon

- Koji Earth

- Aloha DeFi

- Werewolf

- Gaugecash

- Zumo

- Ferrum Network

- The Coop Network

- BeatBind
Read More
CRYPTO TRADE OPPORTUNITIES
'Vast Majority' of Institutions Will Own Crypto by 2026: Fidelity
Alibaba-Owned Newspaper Creating NFTs Called ARTIFACT to Archive News; Tencent Sets Up Blockchain HQ
DeFi Project Aave to Release Ethereum-Based Twitter Alternative This Year
Grayscale to Launch a DeFi Fund and Index for Institutional Investors to Gain Broad-based Exposure
KOJI: AN ORIGINAL COMIC SERIES IN NFTS & CHARITY DRIVEN CRYPTO TOKEN
ALOHA DEFI: A COMPREHENSIVE REVIEW OF THE NEXT-GEN ONE-STOP DEFI ECOSYSTEM
MORE STABLE THAN ALL STABLECOINS, WHY GAUGECASH CAN BE THE GO-TO TOKEN OF THE DEFI WORLD
ZUMO-THE COMPANY HELPING PEOPLE GET COMFORTABLE WITH CRYPTO
#CryptonaireWeekly #platinumcryptoacademy #Binance #Bitcoin #Ethereum #Ripple #Litecoin #AsiaBroadband #WorldMobileToken #CloseCross #TheCoopNetwork #ZUMO #FerrumNetwork #BeatBind #Ecosystem #DeFiSwap #Roocoin #Ledger #AmberGroup #DayTrading #BTC #digitalcurrency #AuBit #aubitnetwork #fwt #Freewaytoken #AlohaDeFi #QoinSuit #digitalcurrencymarket #ATANI #DayTrading #Cryptocurrencyexchanges #digitalexchange
CW - Website Work
https://www.platinumcryptoacademy.com/cryptonaireweekly/edition191/20th-july-2021/