CRYPTONAIRE WEEKLY MAGAZINE 199TH EDITION IS OUT NOW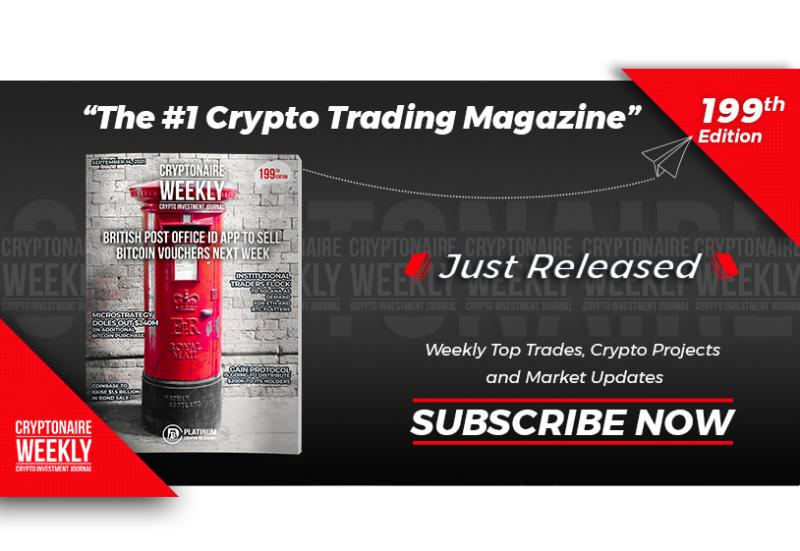 The #1 CRYPTO TRADING MAGAZINE
Despite the slight downturn, the institutional adoption of Bitcoin continues to increase. Filings with the United States Securities and Exchange Commission show that four wealth management firms have bought shares in Grayscale's Bitcoin Investment Trust.
A survey of about 42,000 people in 27 countries by product comparison website Finder showed a high adoption rate in Asia. Among the countries polled, Vietnam had the highest adoption rate at 41%, while India and Indonesia had a 30% adoption rate.
OUR BLOG ARTICLES FOR THIS SPECIAL ISSUE GET CASH FOR CRYPTO, MELD'S CRYPTO COLLATERALISED LOANS ARE A GAME CHANGER CUTTING THROUGH THE NOISE, GAIN PROTOCOL FILLS THE GAPS BY CREATING A SECURE STATIC REWARD TOKEN
We had highlighted in the previous analysis that the negative divergence on the relative strength index (RSI) was warning that the bullish momentum was slowing down and a break below the 20-day exponential moving average (EMA) could pull the price to the 50-day simple moving average (SMA).
Our assumption played out on September 7 as Bitcoin turned down sharply from £38,257.06 and plunged to an intraday low of £31,011. The bulls could not push the subsequent bounce above the 20-day EMA, which suggests that the sentiment has turned negative and traders are selling on rallies.
The important support to watch on the downside is £31,011. If this level breaks down, the selling momentum could pick up further and the BTC/GBP pair could plummet to £27,000.
The first sign of strength will be a break and close above the 20-day EMA. The bullish momentum could pick up if the pair rises above £34,398.41. Lastly please check out the advancement's happening in the cryptocurrency world. 
Enjoy the issue!
Featuring in this weeks Edition:

- Bondex

- Omnia

- MELD

- Mining

- Gain Protocol

- Aristo

- DeGeThal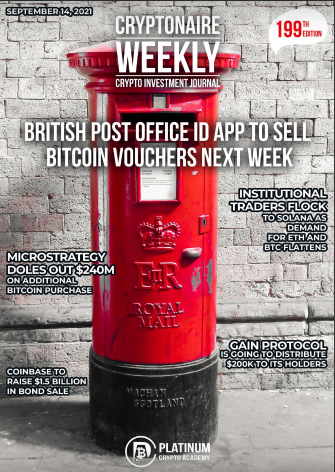 Read More
CRYPTO TRADE OPPORTUNITIES

Solana Hits All-Time High as Coin Rises 14% in 24H

$52K Bitcoin price triggers rally in large caps like Litecoin, Stellar and Bitcoin Cash

El Salvador Buys Its First 200 BTC a Day Before Its Bitcoin Law Becomes Effective 

94% Financial Industry Pioneers say Digital Assets will Replace Fiat in 5-10 Years: Deloitte Report

TOKENISING REAL ESTATE – FRACTIONALISING REALITY THE OMNIA WAY

GET CASH FOR CRYPTO, MELD'S CRYPTO COLLATERALISED LOANS ARE A GAME CHANGER

CUTTING THROUGH THE NOISE, GAIN PROTOCOL FILLS THE GAPS BY CREATING A SECURE STATIC REWARD TOKEN
#Bondex #Omnia #MELD #Mining #GainProtocol #Aristo #DeGeThal #CryptonaireWeekly #platinumcryptoacademy #Binance #Bitcoin #Ethereum #Ripple #Litecoin #Ecosystem #DayTrading #BTC #digitalcurrency #digitalcurrencymarket #DayTrading #Cryptocurrencyexchanges #digitalexchange


CW - Website Work
https://www.platinumcryptoacademy.com/cryptonaireweekly/edition199/14th-september-2021/