CRYPTONAIRE WEEKLY MAGAZINE 216TH EDITION IS OUT NOW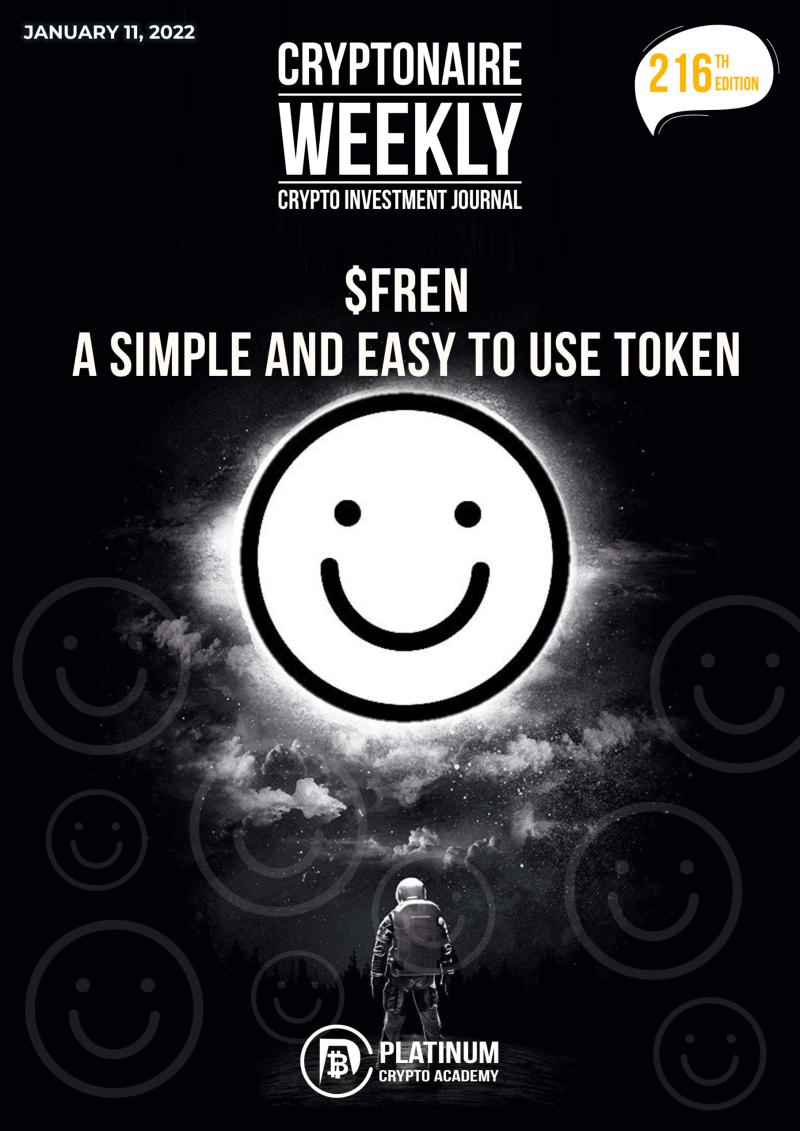 The #1 CRYPTO TRADING MAGAZINE

216th Latest Crypto News Digital Magazine
Jay Hatfield, chief executive of Infrastructure Capital Advisors said: "Cryptocurrencies are likely to remain under pressure as the Fed reduces its liquidity injections." He projects Bitcoin to end below $20,000 in 2022.
However, the bearish projections are not shared by all analysts. Bloomberg Intelligence analyst Mike McGlone said in a recent analysis that Bitcoin may find
support closer to $30,000 and Ether near $2,000. From there, McGlone expects both coins to start a bull run, with Bitcoin heading to $100,000 and Ether to $5,000.
Former Legg Mason fund manager and billionaire Bill Miller revealed in a recent interview with WealthTrack that direct and indirect crypto investments make up about 50% of his personal portfolio.
We had mentioned in our previous analysis that Bitcoin's failure to rebound off the 200-day simple moving average (SMA) was a bearish sign and could lead to further
downside and that is what happened.
The BTC/GBP pair plunged below the strong support at £34,031.76 on January 4. This intensified the selling and pulled the pair to the strong support at £29,000. The long tail on the day's candlestick shows that bulls are attempting to defend the level aggressively. If buyers push the pair above £32,353.68, the pair could pick up momentum and rally to the breakdown level at £34,031.76 which is likely to act as a strong resistance.
The moving averages are on the verge of forming a death cross and the relative strength index (RSI) is near the oversold zone, indicating that bears are in command.
If the price turns down from the overhead resistance, the pair could consolidate between £29,000 and £34,031.76 for a few more days. The next leg of the downtrend
could begin on a break and close below £29,000. If that happens, the pair could plummet to £26,845 and then to £21,462.10.
This negative view will invalidate if the price breaks and sustains above the moving averages.
Lastly please check out the advancement's happening in the cryptocurrency world. 
Enjoy the issue!
Featuring in this weeks Edition:

- Fren

- Mine Network

- Bitshiba

- Onino

- Hubble Protocol

- Deepsquare
Read More
CRYPTO TRADE OPPORTUNITIES
Single inactive volcano has 90% chance of powering El Salvador's Bitcoin City, according to president  
Associated Press to Launch NFT Marketplace on Polygon to Support Journalism
JPMorgan Analyst Predicts Coinbase Will Be 'Leading Beneficiary' of Crypto Growth This Year:
Building a Secure Crypto Infrastructure for Institutional Investors 
Bitshiba: A token for the community built on DeFi!
Fren Tokens lead the way for community tokens
ONINO – The multi-purpose cross-chain metadata registry | Pre Sale filled in 3 min
Fren Social Space and Social token
Bitshiba: An Innovative Community-owned Token
#Fren #MineNetwork #Bitshiba #Onino #HubbleProtocol #Deepsquare #CryptonaireWeekly #platinumcryptoacademy #Binance #Bitcoin #Ethereum #Ripple #Litecoin #Ecosystem #DayTrading #BTC #digitalcurrency #digitalcurrencymarket #DayTrading #Cryptocurrencyexchanges #digitalexchange


CW - Website Work
https://www.platinumcryptoacademy.com/cryptonaireweekly/edition216/11th-january-2022