CRYPTONAIRE WEEKLY MAGAZINE 218TH EDITION IS OUT NOW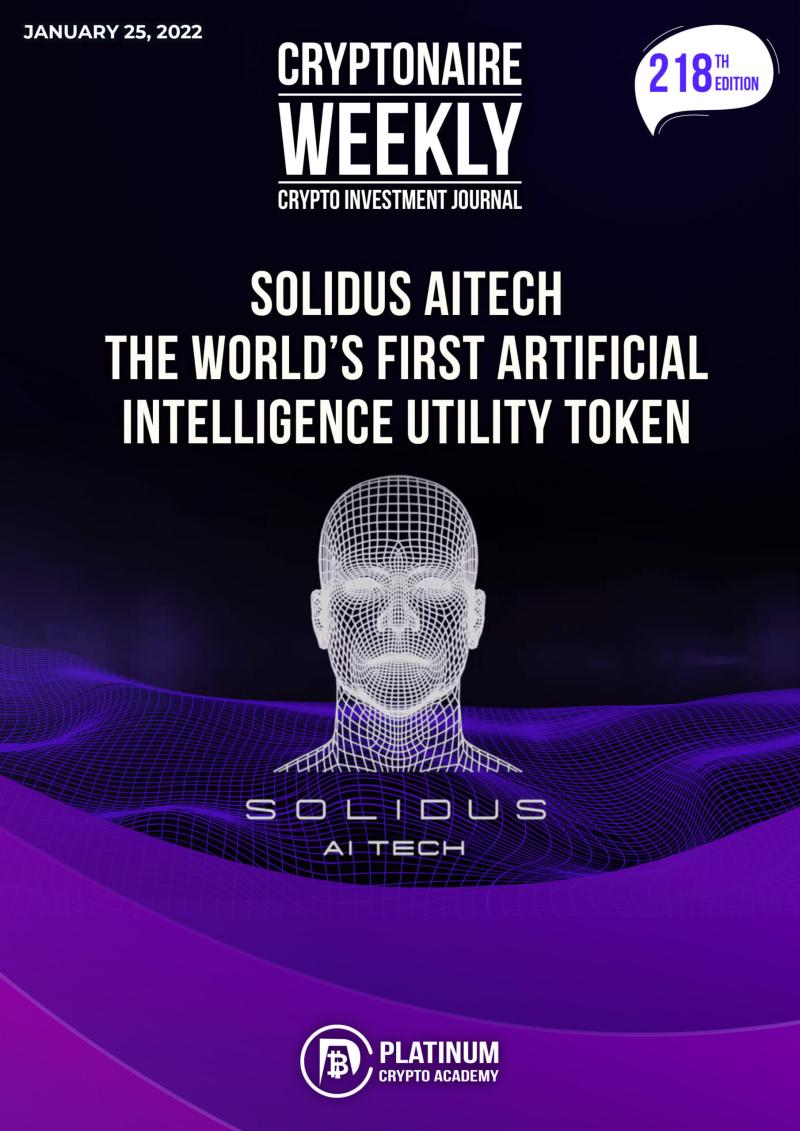 The #1 CRYPTO TRADING MAGAZINE

218th Latest Crypto News Digital Magazine
Risky assets across the world are witnessing a complete bloodbath and crypto markets have been the worst affected. Bitcoin and several major altcoins have dropped more
than 50% from their respective all-time highs, indicating that panic has gripped traders. The total crypto market capitalisation dropped below $1.5 trillion on January 24, a 50% fall from its lofty highs of near $3 trillion in early November of last year.
However, CNBC host Jim Cramer had a different view based on the chart's analysis by popular technician Tom DeMark. Cramer said that "Bitcoin and Ethereum could be looking at downside trend exhaustion bottoms this week." He also added that it "might be too late to sell and you need to consider buying. I know I am, especially if we get a final leg down," CNBC reported.
Bitcoin attempted a recovery on January 20 but could not rally above the overhead resistance at £32,382.23. This may have attracted selling from traders which pulled
the price below the critical support of £29,000 on January 21.
The sharp fall of the past few days sent the relative strength index (RSI) near to 20 levels indicating that the selling had been overdone in the short term. Usually, deeply oversold levels are followed by a minor relief rally or consolidation.
The BTC/GBP pair could rise to the breakdown level at £29,000 where the bears may again mount a strong resistance.
If the price turns down from this level, it will suggest that sentiment remains negative and traders are selling near overhead resistance levels. The bears will then make one more attempt to resume the downtrend.
A break and close below £24,450 could open the doors for a possible drop to £21,462.10. Conversely, if bulls drive and sustain the price above £29,000, it will suggest that the markets have rejected the lower levels. The pair could then attempt a rally to the 50-day simple moving average (SMA).
The pair could soon bottom out but we would wait for the price to sustain above £29,000 before recommending fresh long positions.
Lastly please check out the advancement's happening in the cryptocurrency world.
Enjoy the issue!
Featuring in this weeks Edition:

- Solidus

- Onino

- Meld

- Mine Network

- Digital Arms

- World Mobile Token

- Hubble Protocol
Read More
CRYPTO TRADE OPPORTUNITIES
Grayscale Adds 25 Digital Assets to Its 'Under Consideration' List, Including DeFi, Metaverse Projects  
Fantom is now the third largest DeFi chain by total value locked (TVL)
There's a browser plugin that autoblocks Twitter NFT profile pictures
Russia's Central Bank to Ban on Crypto Mining and Trading 
MELD Protocol to Integrate EGX Token
Pioneering Cash For Crypto Loans, MELD Is The "Buzz" Right Now
How Blockchain-Based World Mobile Token is Revolutionising the Telecom Sector
MINE Network: Mining crypto with a hash-rate-based protocol
#Solidus #Onino #Meld #MineNetwork #DigitalArms #WorldMobileToken #HubbleProtocol #CryptonaireWeekly #platinumcryptoacademy #Binance #Bitcoin #Ethereum #Ripple #Litecoin #Ecosystem #DayTrading #BTC #digitalcurrency #digitalcurrencymarket #DayTrading #Cryptocurrencyexchanges #digitalexchange


CW - Website Work
https://www.platinumcryptoacademy.com/cryptonaireweekly/edition218/25th-january-2022