CRYPTONAIRE WEEKLY MAGAZINE 195TH EDITION IS OUT NOW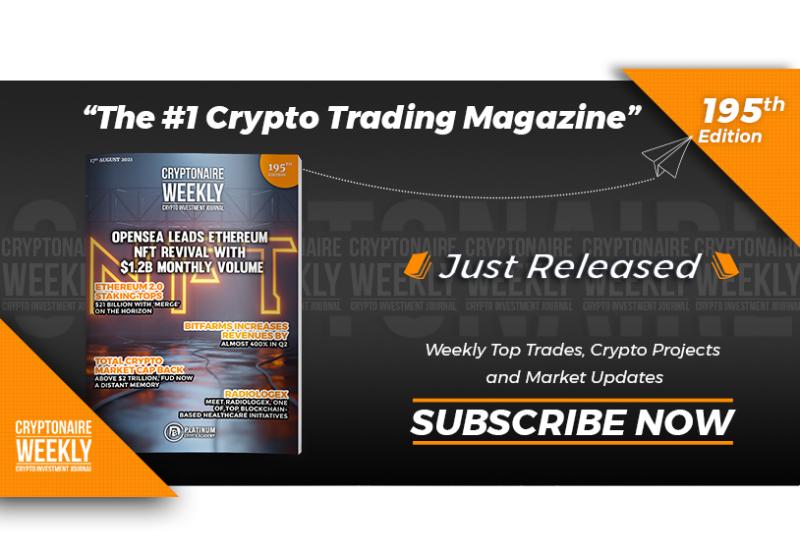 The #1 CRYPTO TRADING MAGAZINE

WEEKLY TOP TRADES, TOP PROJECTS AND MARKET UPDATES
Despite the slight downturn, the institutional adoption of Bitcoin continues to increase. Filings with the United States Securities and Exchange Commission show that four wealth management firms have bought shares in Grayscale's Bitcoin Investment Trust.
A survey of about 42,000 people in 27 countries by product comparison website Finder showed a high adoption rate in Asia. Among the countries polled, Vietnam had the highest adoption rate at 41%, while India and Indonesia had a 30% adoption rate.
OUR BLOG ARTICLES FOR THIS SPECIAL ISSUE ARE MEET KAIKEN INU: THE HOTTEST MEME COIN ON THE MARKET, A SNEAK PEEK INTO HYPERSIGN'S DECENTRALIZED IDENTITY AND ACCESS MANAGEMENT INFRASTRUCTURE & MEET RADIOLOGEX, ONE OF TOP BLOCKCHAIN-BASED HEALTHCARE INITIATIVES
The bears pulled Bitcoin (BTC) below the 200-day simple moving average ($45,218) on Aug 12 but they have not been able to sustain the lower levels. The bulls have pushed the price back above the 200-day SMA today, indicating buying on dips.
If buyers propel the price above the resistance line of the wedge, the BTC/USDT pair could rally to $51,500. This level may act as resistance but if bulls do not give up much ground, the uptrend may reach $60,000.
The rising 20-day exponential moving average ($41,743) and the relative strength index (RSI) just below the overbought zone suggest that bulls are in the driver's seat.
If the price turns down from the resistance line of the wedge, the bears will smell an opportunity. The first sign of weakness will be a break and close below the 20-day EMA. Such a move could open the doors for a further decline to the critical support at $36,670.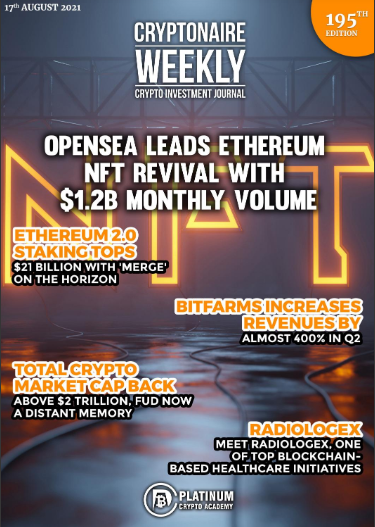 Lastly please check out the advancements happening in the cryptocurrency world.
Featuring in this weeks Edition:

- PYLON

- MELD

- GAIN PROTOCOL

- Radiologex

- KAIKEN

- GSX

- Dirty Finance

- Neftipedia

- The Coop Network

- BeatBind

- Ferrum Network

- World Mobile Token
Read More
CRYPTO TRADE OPPORTUNITIES
Ethereum 2.0 Staking Tops $21 Billion With 'Merge' on the Horizon
Crypto developer will lead Twitter's decentralized social media initiative
Bitfarms Increases Revenues by Almost 400% in Q2
Total crypto market cap back above $2 trillion, FUD now a distant memory
PYLON ECO TOKEN – A DEFI GOVERNANCE DEFLATIONARY TOKEN
MELD JOINS FORCES WITH WORLD MOBILE
GAIN PROTOCOL ANNOUNCES CHANGES IN RESPONSE TO BOT TRADING DURING PRE-SALE
DIRTY FINANCE LAUNCHES STAKING ON THE 17TH OF AUGUST
#CryptonaireWeekly #platinumcryptoacademy #Binance #Bitcoin #Ethereum #Ripple #Litecoin #DirtyFinance #WorldMobileToken #PYLON #TheCoopNetwork #Neftipedia #FerrumNetwork #BeatBind #Ecosystem #DeFiSwap #KAIKEN #Hypersign #GSX #DayTrading #BTC #digitalcurrency #AuBit #aubitnetwork #fwt #Freewaytoken #AlohaDeFi #QoinSuit #digitalcurrencymarket #ATANI #DayTrading #Cryptocurrencyexchanges #digitalexchange




CW - Website Work
https://www.platinumcryptoacademy.com/cryptonaireweekly/edition195/17th-august-2021/