CRYPTONAIRE WEEKLY MAGAZINE 202ND EDITION IS OUT NOW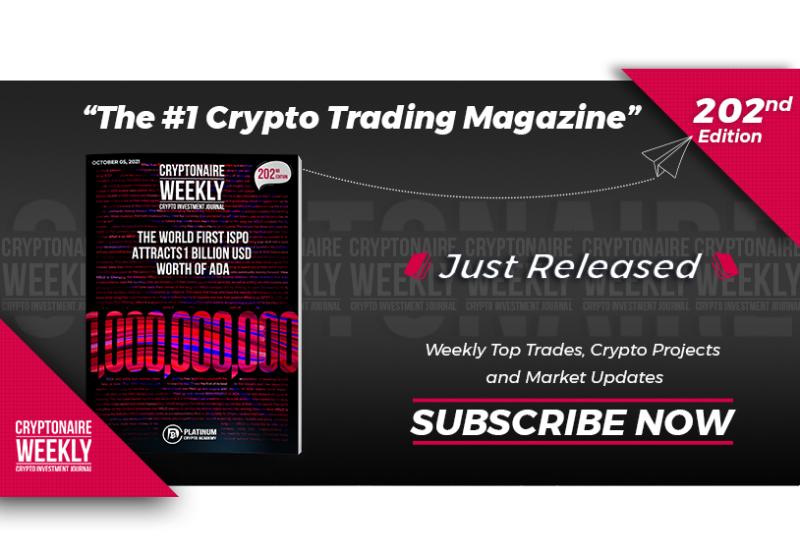 The #1 CRYPTO TRADING MAGAZINE
Despite the slight downturn, the insti tuti onal adoption of Bitcoin continues to increase. Filings with the United States Securities and Exchange Commission show that four wealth management firms have bought shares in Grayscale's Bitcoin Investment Trust.
A survey of about 42,000 people in 27 countries by product comparison website Finder showed a high adoption rate in Asia. Among the countries polled, Vietnam had the highest adoption rate at 41%, while India and Indonesia had a 30% adoption rate.
OUR BLOG ARTICLES FOR THIS SPECIAL ISSUE INSURACE.IO: AN INNOVATIVE DEFI PROTOCOL TO SECURE YOUR CRYPTO INVESTMENTS OMNIA DEFI: TOKENISATION OF REAL-WORLD ASSETS BONDEX: A GROUNDBREAKING BLOCKCHAIN-BASED NETWORK THAT REDEFINES THE FUTURE OF WORK MAKE YOUR CRYPTO INVESTMENT WITH THE BEST HYBRID INTELLIGENCE SYSTEM THE WORLD FIRST ISPO ATTRACTS 1 BILLION USD WORTH OF ADA
Bitcoin and altcoins have made a strong recovery in the past week. The sentiment turned around after the U.S. Federal Reserve Chairman Jerome Powell, during a House Financial Services Committee meeting on September 30, made it clear that he does not intend to ban cryptocurrencies but said that stablecoins should be regulated. This energized the bulls who had been on the backfoot since China renewed its crackdown on crypto services on September 24.
Bitcoin bounced off the 100-day simple moving average (SMA) on September 29 and broke above the descending channel on October 1. This move suggests that the downtrend could be over. The 20-day exponential moving average (EMA) has turned up and the relative strength index (RSI) has jumped into the positive territory, indicating that bulls have the upper hand.
The BTC/GBP pair could now rally to £38,257.06 where the bears are likely to mount stiff resistance. If the bulls defend the 20-day EMA during the next dip, it will increase the possibility of a break above £38,257.06.
If that happens, the pair may start its northward march to £42,653.53 and then retest the all-time high at £47,240.05. Alternatively, if the price turns down from the current level or the overhead resistance and breaks below the 20-day EMA, the pair could plummet to £31,011.
Lastly please check out the advancements happening in the cryptocurrency world.
Enjoy the issue!
Featuring in this weeks Edition:
- bitcci
- Artex
- Asia Broadband
- RMRK
- Insurace
- Bondex
- Kanaloa Network
- Omnia DeFi
- DeGeThal
- MELD
- MAINFRAME PROTOCOL
Read More
CRYPTO TRADE OPPORTUNITIES
Institutional investors bought the dip as China FUD broke
Snoop Dogg Buys XCOPY Ethereum NFT for $3.9 Million
Investors See Latest China Ban As Opportunity To Scoop Up More Crypto 
Google, the most popular Bitcoin trend indicator, turns 23 
RMRK LAUNCHES MONTH-LONG $50000+ NFT HACKATHON
MAINFRAME PROTOCOL – LAUNCHPAD, VIDEO GAME BUILDER AND STREAMING PLATFORM BUILDER
OMNIA DEFI: TOKENISATION OF REAL-WORLD ASSETS
BONDEX: A GROUNDBREAKING BLOCKCHAIN-BASED NETWORK THAT REDEFINES THE FUTURE OF WORK
MAKE YOUR CRYPTO INVESTMENT WITH THE BEST HYBRID INTELLIGENCE SYSTEM




#bitcci #Artex #AsiaBroadband #RMRK #Insurace #Bondex #KanaloaNetwork #OmniaDeFi #DeGeThal #MELD #MAINFRAMEPROTOCOL #CryptonaireWeekly #platinumcryptoacademy #Binance #Bitcoin #Ethereum #Ripple #Litecoin #Ecosystem #DayTrading #BTC #digitalcurrency #digitalcurrencymarket #DayTrading #Cryptocurrencyexchanges #digitalexchange


CW - Website Work
https://www.platinumcryptoacademy.com/cryptonaireweekly/edition202/5th-october-2021/